Fixed/Movable Hot Saw Machine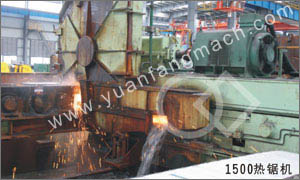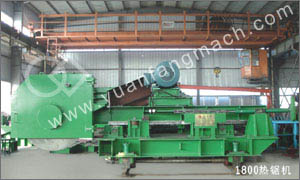 1.Purpose
The hot saw machine is a kind of special equipment for saw cutting bar, pipe billet and various section materials. It can be used alone and also can be used in the assembly line. The products are divided into the fixed type and movable type. The structure type can be divided into the lever-type and slide carriage type. The drive type can be divided into bevel gear drive and belt drive. The product specification has φ1200, φ1500, φ1800, φ2000, etc.
2.Scope of Application and Main Technical Parameters (They are different according to the requests of users.)
Saw cutting temperature is larger than 750°.
Saw Bit Diameter Range: 1620~1800mm; Thickness: 10mm
Saw Cutting Temperature: 200~1000℃;
Rotate Speed: 1170r/min
Saw Bit Peripheral Speed: 100~110m/s; Feed-in Speed: 100~250mm/s
Return Speed: 200~500mm/s
Operating Stroke: 1000mm; Maximum Stroke: 1200mm
Hydraulic System Pressure: 14Mpa; Self-contained Lubrication Apparatus
3.Awarded Honor
This machine got the identification of "Jiangsu Province High and New Technology Product" in 2009.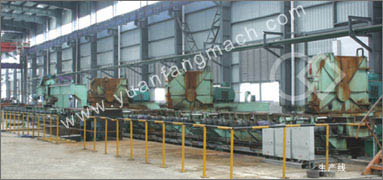 4.National Patent

ZL 2008 1 0155408.0 (Invention)

ZL 2008 1 0155411.2 (Invention )

ZL 2008 1 0155409.5 (Invention)

ZL 2008 1 0155412.7 (Invention)

ZL 2008 2 0161446.2 (Invention)

ZL 2008 2 0161447.7

ZL 2008 2 0161448.1 (Invention)

ZL 2008 2 0161453.2

ZL 2008 2 0161452.8

ZL 2008 2 0161451.3

ZL 2009 2 0180334.6

FAQ
Q: Are you trading company or manufacturer ?
A: We are a manufacturer with our own factory.
Q: How long is your delivery time?
A: Generally, it is 3 months after payment, or it depends on the quantity of order.
Q:What about the after-sale services?
A:We provide 12 months quality warranty after dispatch. We also offer long-time technical advisory services.
Q.What about the transpotation?
A:We can take any type of transpotation according to the customer's demand.
Q: why choose us?
A:Yuanfang Machinery Manufacturing Co., Ltd. is located in Jiangyin City, Jiangsu Province, China. It is founded in 2006, covering an area of about 40,000 m2 with a gross investment of 120 million RMB. Yuanfang Machinery Manufacturing Co., Ltd. is an enterprise majoring in designing, manufacturing and selling large metallurgical, environment friendly and non-standard equipments. It is also a professional manufacturer in finishing and grinding series equipments applied on the subsequent processes after steel producing. The company passed the ISO9001 international quality certification in 2007. In 2009, it was identified as the "High and New Tech Enterprise in Jiangsu Province". In the year of 2010, it passed the ISO14001 Environmental Management System Certification.
Please feel free to contact with us for detailed information, we will reply you at once.
Contact Below:
Jiangyin YuanFang Machinery Manufacturing Co.,LTD.
Shanny Shen: +86 151 5228 8398
Jessica Zhang: +86 159 6161 0166
Tel:+86-510-80283152
Fax:+86-510-86292857
Email: jessica@ yuanfangmach.com
Web:www.chamferingmachinechina.com
Add:No.8 Kaitai Rd. Nanzha Street Jiangyin City Jiangsu Province china
If you're looking for the fixed hot 1500/1800 saw machine for steel pipe with high quality/ movable hot saw machine for round bar with high quality online hot saw cutting facility for round bar with high quality, please be free to consult the quotation with our factory. As one of the leading manufacturers and suppliers in China, we also offer the customized products made in China with reasonable price.