Oil Well Pipe Surface Oiling Machine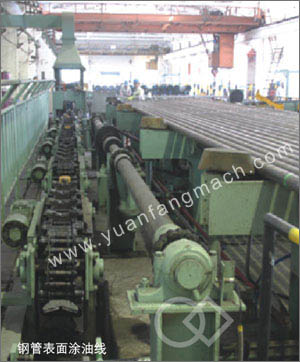 Purpose
This machine is composed of flat pallet material loading, lengthways conveying chain, fat liquoring unit, spurting, cross conveying chain, packaging material basket. Its function is that it transports the steel pipe to the lengthways conveying chain by the flat pallet and then transports the steel pipe to the cross conveying chain by the lengthways output chain and the flat pallet after the fat liquoring step. Then it moves the steel pipe slowly until the surface paint is dry. Then the machine puts the steel pipe into the packaging charging basket and then packages them in bundle by manual work.
Steel Pipe Cutter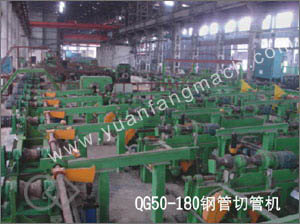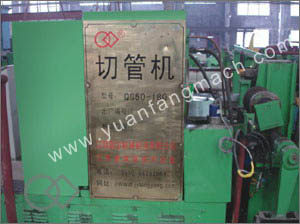 1. Purpose

This machine is specially used to cut steel pipe end socket and also can be equipped with auxiliary machine to cut the steel pipe in a fixed size. The chucking, cutting, cutting feed, principal axis rotation and braking of the machine all take the hydraulic drive. Its electronic control system takes the PLC control and also can do the automatic and semiautomatic cycle and match up the auxiliary machine. It has the single action function of each movement.

2. Scope of Application and Main Technical Parameters (They are different according to the requests of users.)

Suitable Steel Type: Nuclear power station alloy pipe: Inconel 690; Nuclear secondary heat exchanger pipe: 304, 316L; Nuclear three-level heat exchanger pipe: 304, 316L; Austenitic stainless steel long pipe: 304, 321, 316L

Height of Principal Axis Center to the Ground: 1200mm

Principal Axis Rotation Speed: Exchange Stepless Speed Regulating

Principal Axis Rotation Speed Range: 170~340r/min (when the frequency is 30~60HZ)

Cutting Feed Distance: max. 80mm

Knife Rest Feed Speed (Stepless Speed Regulating): max. 50 mm/min; min. 100mm/min

Cutting Feed Pulse Equivalent: 0.5mm/Pulse

Tool Setting Round Diameter: φ180

Tool Setting Ruler Gauge Length: 200mm
FAQ
Q: Are you trading company or manufacturer ?
A: We are a manufacturer with our own factory.
Q: How long is your delivery time?
A: Generally, it is 3 months after payment, or it depends on the quantity of order.
Q:What about the after-sale services?
A:We provide 12 months quality warranty after dispatch. We also offer long-time technical advisory services.
Q.What about the transpotation?
A:We can take any type of transpotation according to the customer's demand.
Q: why choose us?
A:Yuanfang Machinery Manufacturing Co., Ltd. is located in Jiangyin City, Jiangsu Province, China. It is founded in 2006, covering an area of about 40,000 m2 with a gross investment of 120 million RMB. Yuanfang Machinery Manufacturing Co., Ltd. is an enterprise majoring in designing, manufacturing and selling large metallurgical, environment friendly and non-standard equipments. It is also a professional manufacturer in finishing and grinding series equipments applied on the subsequent processes after steel producing. The company passed the ISO9001 international quality certification in 2007. In 2009, it was identified as the "High and New Tech Enterprise in Jiangsu Province". In the year of 2010, it passed the ISO14001 Environmental Management System Certification.
Please feel free to contact with us for detailed information, we will reply you at once.
Contact Below:
Jiangyin YuanFang Machinery Manufacturing Co.,LTD.
Shanny Shen: +86 151 5228 8398
Jessica Zhang: +86 159 6161 0166
Tel:+86-510-80283152
Fax:+86-510-86292857
Email: jessica@ yuanfangmach.com
Web:www.chamferingmachinechina.com
Add:No.8 Kaitai Rd. Nanzha Street Jiangyin City Jiangsu Province china
If you're looking for the slitting machine with high quality, please be free to consult the quotation with our factory. As one of the leading manufacturers and suppliers in China, we also offer the customized products made in China with reasonable price.